Single Pin 1/2 Cord Grapple
TimRick Mobile Slasher Model # 2750
One of TimRick's strong points has been our flexibility.  We custom build to our customers requirements to produce the best slasher on the market for you and your requirements.
We have strived to produce a machine that is not only operator friendly with our larger soundsealed cab, but that also has less down time, higher production and sorting capabilities, and great fuel consumption.  We have had reports back from owner operators that they have increased their productions by a minimum of 10%, decreased their parts and downtime, and saved a minimum of $10,000.00 per year in fuel costs alone.  When you take all this into consideration any extra you may pay for our machines compared to our competitions, you will gain back.  So we ask that you take in all the aspects of the TimRick Slasher when considering this and have a good look at the differences.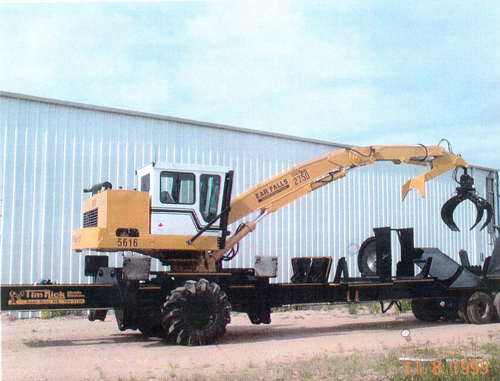 Most of all, we are here for our customers and feel free to call at any time to discuss anything about the machine.  We have listed some testimonials from owner operators and also mills.  But seeing is believing, if there is a machine working in your area, go out and have a look, talk to the owner.
R & D For Vacuum System
This is being developed as we speak.  We will be implementing a system to reduce oil spills in the bush, to be as enviromentally friendly as possible.  In the event of a hose breaking and oil spillage, there will be a switch in the cab so that the operator can turn on a vacuum pump in the hydraulic tank and then reduce the amount of oil leaking until the repair is done.  This will be implemented as requested.
Hydraulic Bang Board Pin Stops
This is an option, that can be purchased with the mobile slashers.  They were designed to stop the butt board at variable lengths, due to the extensive wood sorts in some areas.  The lengths can be set from 100″ to 16'9″.  Some have been set at 9'6″, 10'6″, 12'6″, or as requested.  This gives you the option of having a preset length for as many as 4 different cut lengths.
They are operated by 2 cylinders per setting which are mounted vertically so they push the stoppers up through the deck and then the butt board stops at that desired length.  They are actuated by buttons on the handles.
Pilot Controls
TimRick is very flexible as to setting up the pilot functions.  The controllers are set as requested by our customers for which functions on each handle and they also have a choice for the house swing on handles, or a foot pedal on the cab floor.
Hydraulic Hose & Fittings
All the hydraulic hoses are aeroquip, 4 wire & 6 wire.  This also includes the return lines.  The pilot lines are #4 & #6 2 wire ice hose (aeroquip) which gives more flexibility in cold weather.
Rexroth Hydrostatic Drive
We have a variable displacement drive motor for high & low.  Now there is no getting out and shifting, it will automatically shift down to low if the going gets tough, be it a mud hole, or going up a hill, and will also hold itself going downhill for better control.  Top speed is 9-10 mph.
The motor is coupled to a 4.25 to 1 planetary gear box with spring applied oil release park brake.  The variable speed displacement motor has a built in counter balance brake valve which acts as a brake when going down hill and works on the same principal as a jake brake on a truck.
John Deere 1400 Series Diff
The John Deere 1400 series differential also has a brake built internally which is a foot pedal actuated from the operators cabs.
The John Deere diff has a hydraulic actuated differential lock, which can be actuated from the cab when the operator requires both tires driving in heavy pulling applications and can be de-energized by the diff lock for a tighter turning radius.
Hydraulic Cylinders
All the cylinders on the slasher, loader & carrier, come with high pressure seals (5000 psi), and with wider wear bands, commonly known as "Cat Style".
Hydraulic System
The hydraulic system is load sense, pressure compensated.  It was engineered and designed specifically for this application by Rexroth & Basic Technologies & TimRick all working together.  We thus have a hydraulic system second to none, and here are some of the benefits.
maximum efficiency & production
longer life for pumps, motors & valves
better fuel consumption, 3-4 gallons per hr working
no heating problems in summer weather
The loader and carrier pump & valves are rated for 6000 psi working pressure and this system only requires 2700 psi max.  The drive & saw pumps, motors and valves are rated for 6000 psi, and this system requires 5000 psi max.  All hydraulic components are of the best quality that money can buy.  No cheaper components are used.
TimRick supplies a complete hydraulic schematics drawn by Rexroth, and also a complete parts break down for all the hydraulic components.  Hydraulic components are stocked in Swan River at TimRick, a complete system is stocked by Basic Technologies in Saskatoon, Saskatchewan and also Welland, Ontario.  They are very accessible as required.
Oil & Fuel Systems
We install a wabasto heater on all our machines which preheats the hydraulic oil and the engine in cold weather.  It's a diesel heater that is plumbed directly to the fuel tank, a low spark forestry application which is very safe and much better for insurance than the propane heaters that are sometimes used.  By not starting your machines cold, you add life to your hydraulic components, and your cab will be warm for the operator also.  The slasher oil capacity is 135 gallons.  The fuel capacity is 130 gallons.
Slasher Swivel
The main 21 port swivel which allows you to have the continuous rotation house has been redesigned with a 6000 psi rating.  The oldest one working in the field now is 8500 hours \ 2 years old, and doesn't even have a drip!  There are no signs of leakage.
Slasher Boom
The booms are welded and line bored, with very tight tolerances for maximum pin & bushing life.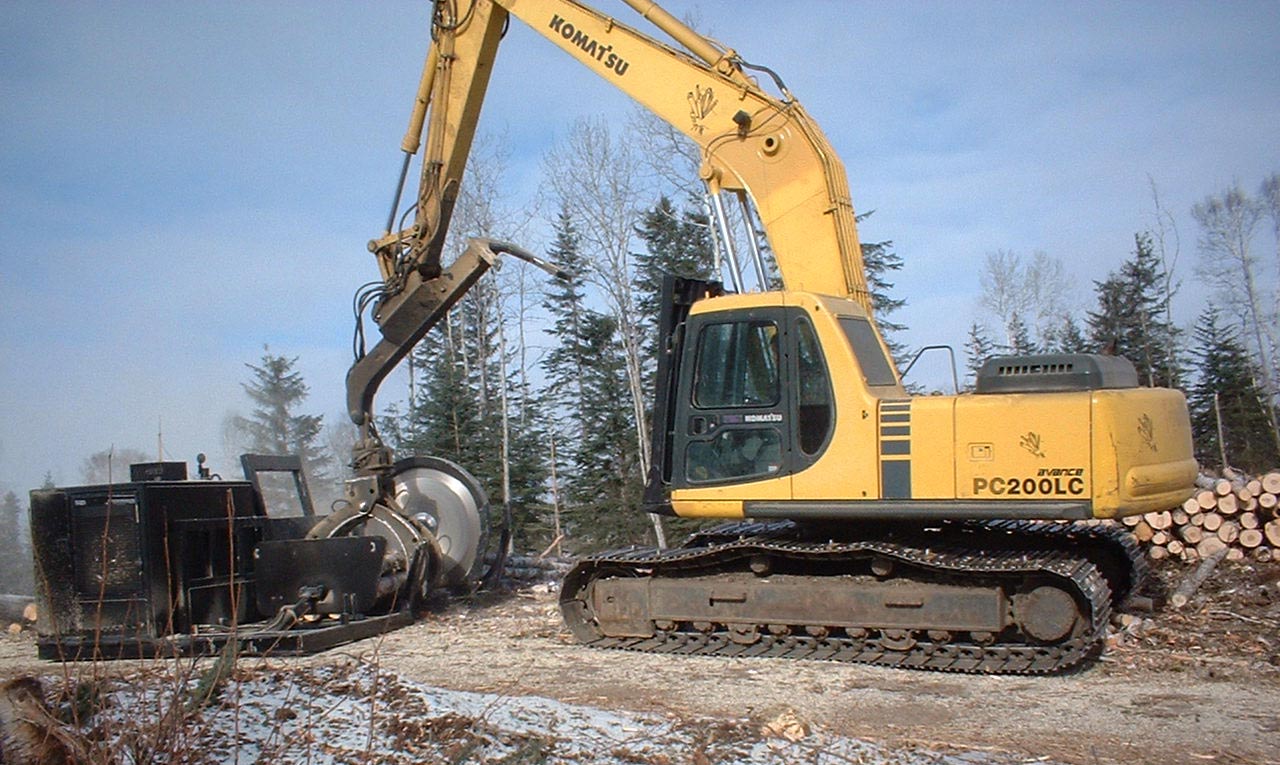 TimRick Radio Remote Tag Slasher
This self contained, portable unit comes with a John Deere 150 hp engine, and excellent fuel economy.
2 gallons of fuel per hour at working rpm
85 gallon fuel tank
20 cord per hour production / 8 ft poplar
Panel box is easily accessible and sealed for all weather conditions.  All slasher functions are actuated from the panel box, both by remote while working and manually for maintenance purposes.  Murphy switch gauges / oil pressure / water temperature.
Low-level hydraulic oil and engine shut down safety system.
Radio remote with 14 functions
Engine can shut off, idle up or down by remotes
Remotes have been tried and tested with underground mining operations
Remotes are wired direct to power system, no batteries required
Hydraulic oil cooler, thermostat controlled
Has auto start up or shut down as required with electric fans
Hand pump to filter any added oil to hydraulic system
Rugged structural design
Frame manufactured from 6″ x 6″ x 3/8″ tubing, bunks are 4″ x 4″ x 3/8″ tubing
Cylinders are 4″ id with 3/8″ wall barrel and 2 1/2″ chrome shaft
Hydraulic valves are well guarded, but easily accessible for service and maintenance.
All aeroquip hose and adapters are used, both 4 & 6 wire for hoses
The hydraulic componenets are Rexroth
Hydraulic suction shut off valves to service pumps
85 gallon hydraulic oil tank
Hydac triple length return filter
Designated Rexroth piston pump & motor for saw
Rexroth vain pump for butt board and saw arm
60″ simonds saw blade
Saw arm has motor spool to float back into place
Fully guarded and enclosed engine
S17 wabasto heater plumbed into hydraulic tank to pre-heat hydraulic oil as well as the engine for cold weather start ups